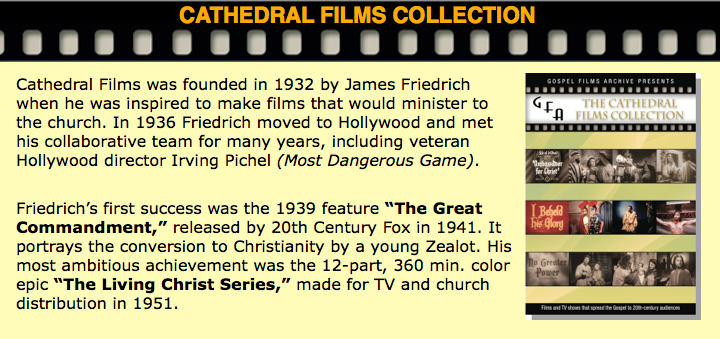 No Greater Power (1942/24m)
The story of Zaccheus as recorded in Luke 11 shows him as an impoverished potter who takes advantage of circumstances to gain the exalted position of tax collector in Jericho. He uses his wealth and power to further his own selfish ends, but everything changes when Jesus comes to supper. The film was shot by veteran cinematographer John Alton (Elmer Gantry) and is notable for its effective use of light and shadow, most notably when Jesus is strongly backlit giving a halo effect. This is the only known original sepia tone print of this Cathedral Films classic.
Ambassador for Christ (1949/33m)
From Cathedral Film's "Life of St. Paul" series. Paul and Barnabas take the Gospel to Antioch, where Paul teaches that all people, even slaves, are equal in the sight of God. The Prophets foretell of a famine in Jerusalem and the new believers send food and supplies, establishing the earliest foreign missionary. 
I Beheld His Glory(1953/color/52m)
This fine production was filmed in color for TV broadcast during Easter week 1953. The story is told in flashback by Cornelius, a Roman Centurion played by veteran actor George Macready. Cornelius, who is open-minded about the teachings of Christ, becomes concerned for His safety after hearing about the plot to have Him killed. He is finally converted to Christianity after hearing the story of Christ's resurrection from the apostle Thomas.
*********************************************
Gospel Films Archive DVD collections are available at Vision Video, Christian Cinema, Christian Film Database (CFDb) and other participating retailers.
Help save Christian film history by telling your family and friends about the project and sending them to this website. They will be amazed to discover a substantial archive of relevant and inspiring Christian films, many not seen since they were originally released. You can further help rescue, restore and reissue select films by visiting our Film Restoration Page.

*********************************************