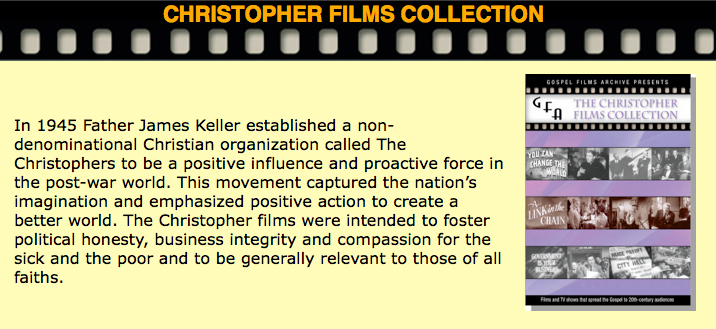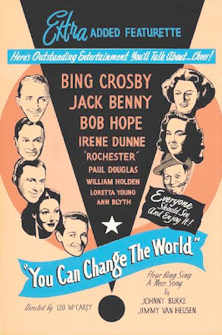 You Can Change the World  (1951/30m) An all-star Hollywood cast gathers at the home of Jack Benny to hear Father James Keller tell how each of us can change the world for the better. The Christophers movement swept the country as a result of this film and we have six for release.
A Link in the Chain  (1957/30m) James Cagney (who rarely did TV) brilliantly portrays a retiring professor who learns (in flashbacks) just how relevant he was to his students. In this Frank Capra-esque tear-jerker Cagney portrays his character at three different ages in life and includes a poignant death scene in the finale. 
Government is Your Business (1953/30m) Based on Father James Keller's book that encouraged average americans to become involved in politics so they can help change the world for the better. Dramatic story about an earnest young man who runs for a local office against a corrupt regime. He is opposed by his family, fiancee and friends, yet perseveres until he surprisingly wins the respect of the state's governor.
*********************************************
Gospel Films Archive DVD collections are available at Vision Video, Christian Cinema, Christian Film Database (CFDb) and other participating retailers.
Help save Christian film history by telling your family and friends about the project and sending them to this website. They will be amazed to discover a substantial archive of relevant and inspiring Christian films, many not seen since they were originally released. You can further help rescue, restore and reissue select films by visiting our Film Restoration Page.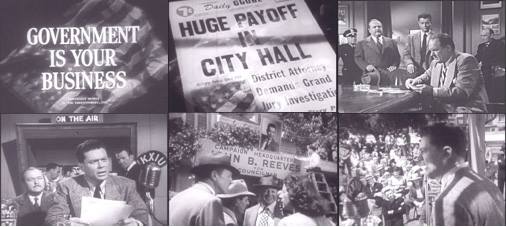 *********************************************