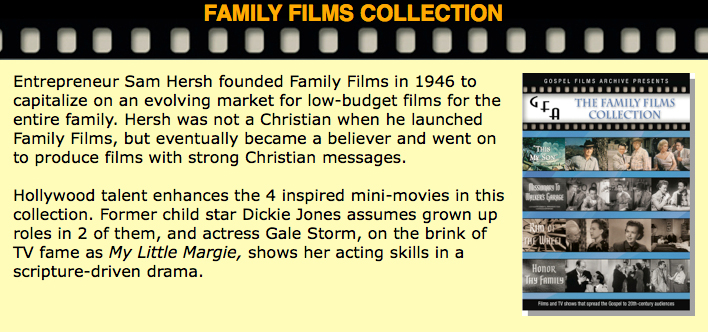 This My Son  (1954/color/30m) Former child star Dickie Jones has a grown-up role in this modern day interpretation of the parable of the Prodigal Son from Luke 15. Fine acting and production values enhance this fine film made for the Southern Baptist Convention in 1954. (This is the only known color version.)
Missionary to Walker's Garage  (1954/28m) Dick Jones plays Mark, who wants to be an automotive engineer and a Christian businessman. His parents want him to join the clergy. An inspired and literate script brings to life the "all things work together" message of Roman's 8:28
Rim of the Wheel (1951/23m) Gale Storm and Lee Bonnell in the story of a young wife who is on a constant round of social activities and neglecting her home and family. Through the fatherly advice of an elderly neighbor, she comes to realize that religion has a definite place in the home and that the church is important in her life.
Honor Thy Family (1951/27m) A cast of familiar faces adds fun to this comedy-drama about an Italian immigrant father and son learning to appreciate each other. The script is a charming blend of the prodigal son of Luke 15 and the "Honor thy father and mother" message of Ephesians 6:2.
*********************************************
Gospel Films Archive DVD collections are available at Vision Video, Christian Cinema, Christian Film Database (CFDb) and other participating retailers.
Help save Christian film history by telling your family and friends about the project and sending them to this website. They will be amazed to discover a substantial archive of relevant and inspiring Christian films, many not seen since they were originally released. You can further help rescue, restore and reissue select films by visiting our Film Restoration Page.

*********************************************