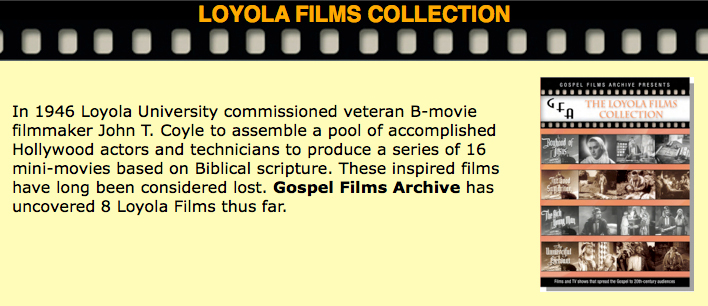 Boyhood of Jesus (1947/20m) In 1946 Loyola University commissioned veteran B-movie filmmaker John T. Coyle to assemble a pool of Hollywood actors and technicians to create 16 half-hour Bible films faithfully based on scripture. This one from the Gospel of Luke tells the story of Jesus' birth and life to age 12.
The Good Samaritan (1947/27m) The Loyola Films have long been thought lost. All have strong production values and excellent music scores. An aged scribe relates Jesus' famous parable from Luke to his grandson. A family traveling to Samaria runs into hardship but also is blessed with kindness.
The Rich Young Man (1947/25m) The dramatic parable of a rich man who meets Jesus, who urges him to give away his wealth and follow him, as recorded in Mark 10. The story is interpreted by a familiar cast of veteran actors.
The Unmerciful Servant (1947/20m) A servant who borrows from his king for an illicit slave trade deal can not repay the loan. He pleads for mercy and the kindly king at last relents, but the wily servant shows no similar mercy to those owing him money. The king sets matters right and metes out overdue punishment. Forgive your brothers that your father in heaven may also forgive you.
*********************************************
Gospel Films Archive DVD collections are available at Vision Video, Christian Cinema, Christian Film Database (CFDb) and other participating retailers.
Help save Christian film history by telling your family and friends about the project and sending them to this website. They will be amazed to discover a substantial archive of relevant and inspiring Christian films, many not seen since they were originally released. You can further help rescue, restore and reissue select films by visiting our Film Restoration Page.

*********************************************