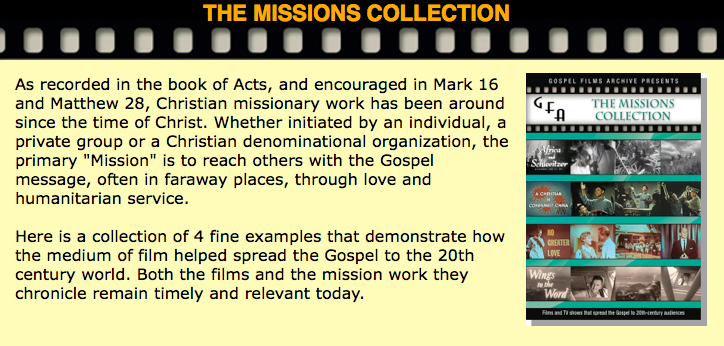 Africa and Schweitzer (1961/27m Cathedral Films) Superb documentary on Albert Schweitzer and his Christian missionary work in Africa, made while he was still alive. Narrated by Lowell Thomas and exquisitely photographed in the Belgian Congo by Sven Nykvist, Ingmar Bergman's famed academy-award winning cinematographer.
A Christian in Communist China  (1961/color/19m Film Services) A defiant Chinese Christian pastor, who has been conducting secret religious services in Communist China, is discovered and tortured. He escapes, but as he sails into Hong Kong harbor and hears a church choir singing in the distance, he decides to turn back to the people in his homeland who have looked to him for faith.
No Greater Love (1960/color/30m Film Services) A dentist (Richard Denning) and his nurse wife (Evelyn Ankers) join other Christian professional men and women who have volunteered their services in Africa. The story ends with a tremendous impact--a heartfelt call to Christian dedication and service to our Lord.
Wings to the Word (1951/30m Protestant Film Commission) Narrated by Alexander Scourby. The Reverend Rodger Perkins, a Presbyterian missionary to Brazil, portrays himself in this true story of a young missionary flyer who travels between remote villages in an impassioned campaign to use "wings to speed the Word of God."
*********************************************
Gospel Films Archive DVD collections are available at Vision Video, Christian Cinema, Christian Film Database (CFDb) and other participating retailers.
Help save Christian film history by telling your family and friends about the project and sending them to this website. They will be amazed to discover a substantial archive of relevant and inspiring Christian films, many not seen since they were originally released. You can further help rescue, restore and reissue select films by visiting our Film Restoration Page.

*********************************************